Dr. Hannah Yancho
Dentist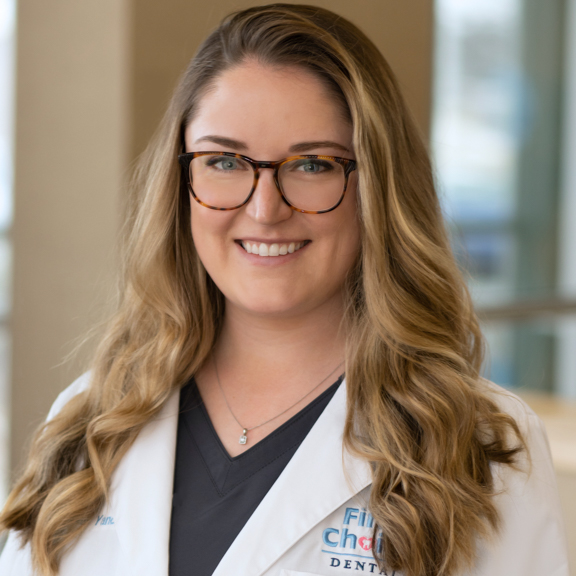 Services Offered
General Dentistry
Days & Hours
Waunakee
Monday 7:00 AM - 5:00 PM
Tuesday 7:00 AM - 5:00 PM
Wednesday 7:00 AM - 5:00 PM
Friday 7:00 AM - 4:00 PM
Days and hours listed do not indicate available appointment times. Please make an appointment with your clinic.
Credentials
Education
General Dentistry Residency- University of Tennessee Graduate School of Medicine
Doctor of Dental Surgery- University of Michigan School of Dentistry
Bachelor Degree in Biopsychology, Cognition & Neuroscience- University of Michigan
Professional Organizations & Awards
2021 Francis B. Vedder Society of Crown & Bridge Prosthodontics Award
2021 Brasseler USA® Scholarship for Excellence in Restorative Dentistry
Member, American Dental Association
Member, Wisconsin Dental Association
Member, Academy of General Dentistry
Member, Greater Dane Dental Society
Member, American Association of Women Dentists
About Dr. Hannah Yancho
About Dr. Hannah Yancho
Dr. Hannah Yancho was born & raised in Traverse City, MI. She comes from a family of dentists, with her father practicing since 1985 and a brother, who practices with the US Navy. Before moving to Madison, Dr. Yancho spent a year living in the Great Smokey Mountains, and completing a general dentistry residency at the University of Tennessee.
When not practicing dentistry, Dr. Yancho enjoys hiking with her German Shepherd/Black Lab mix, binge watching a Netflix show, and catching up with friends. One of Dr. Yancho's favorite trips she took was a 2-week trip to rural Kenya. And she cannot wait until she can return one day!