TMJ Therapy
You may be able to relieve your headaches, jaw pain, or tinnitus right here.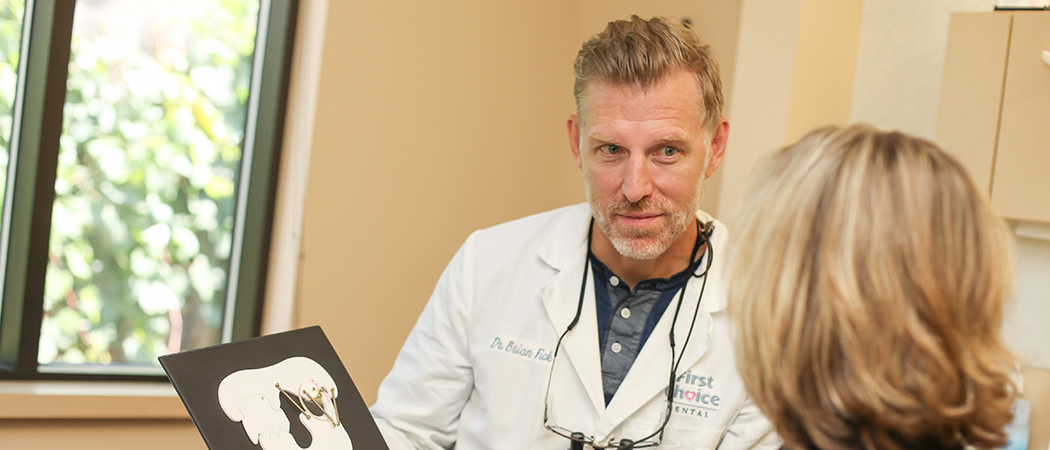 What is TMJ?
An estimated 10 million Americans suffer from TMJ disorder, which is caused by bite misalignment that originates at the TMJ (temporomandibular joint). This is the joint that connects your top and bottom jawbone. People who suffer from TMJ experience aggravating symptoms, often without realizing their dentist could provide relief. Common TMJ symptoms include:
Chronic headaches
Migraines
Popping, clicking, pain, or sensitivity in the jaw
Tooth pain or sensitivity
Tinnitus (ringing) in the ears
Chronic pain in the neck or shoulders
Treating TMJ
Typically, TMJ headache therapy treatment follows these three steps:
Relieving Muscle Spasms and Pain.

Our immediate concern is to provide relief of your symptoms. We use a technology called ULF-TENS to help with pain relief by stimulating the body's production of endorphins, which is a natural anesthetic.
Stabilizing the Bite.

A temporary device known as an orthotic is often worn over the teeth. This device, which is made of acrylic, allows your dentist to make easy adjustments to align and stabilize your bite without directly adjusting the teeth. Once TMJ symptoms have dissipated and the bite has been stabilized, we will move on to the next step and permanently adjust your bite to the correct position.
Long-Term Management.

There are a variety of ways to correct your bite in a more permanent way. Once we've relieved your initial pain and stabilized your bite, we're likely to take one of the following paths: Coronoplasty, Removable Overlay Partial Dentures, Reconstruction or Orthodontics.
Real Patients Real Reviews
I've had WONDERFUL experiences with y'all (and considering the number of fillings I had when I first came, that's saying something!!).
Sarah M.
Patient
This place is 100x better than any other dentist I've been to and I thought I had a good dentist already. I appreciate the care you provide me and my family.
Nadia F.
Patient
I've been a patient since Dr. Giswold was on his own, and at three different offices, because of my moves around the city. I have been extremely pleased with everyone I've dealt with in the more than 30 years involved.
Darlene H.
Patient
Schedule your Free Consultation at our Madison West Location
If you are interested in learning more, you can call us schedule a free TMJ consultation, where you can meet the dentist, learn more about the process, and discuss the treatment you may need. There's absolutely no charge and no obligation to see if TMJ therapy is the right choice for you. Learn more about our Madison West location or call us at 608.833.1100 to schedule your consultation now.